We will have the pleasure to welcome in our series of online conferences, our member Nicolas Véron who will present us an assessment of ten years of banking union in Europe, subject which will also be the one of his next book.
Banking Union in Europe is still an unfinished business, even if important steps have been taken. This prevents the realisation of the objectives put forward by European leaders concerning the union of capital markets, the call for a strategic autonomy for Europe, an increased use of the euro in the world but also the ambitions included in the green deal and the objectives to counter climate change, to name but a few.
How to react to new financial products and crypto-currencies? What about the supervision of insurers? How does banking nationalism continue to play tricks? And are the advances made sustainable?
All this promises to be a rich and rewarding debate to understand the challenges we face in this subject that matters to us all.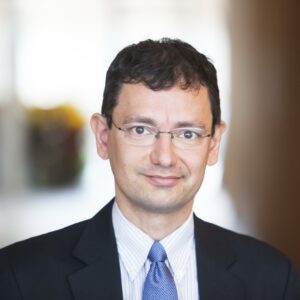 Nicolas Véron co-founded the Bruegel think tank in Brussels in 2002 and joined the Peterson Institute for International Economics in Washington DC in 2009.
His research focuses on financial systems and financial services policy, with an emphasis on Europe.
A graduate of the École Polytechnique and the École des Mines, he held senior positions in the French government and private sector in the 1990s and early 2000s.
He is also an independent board member of the DTCC, a non-profit financial infrastructure company responsible for the global derivatives data repository.
In September 2012, Bloomberg Markets included Mr. Véron in its annual global "50 Most Influential People" list for his early advocacy of European banking union.
Speakers:
The debates will be moderated by Lieven Taillie.